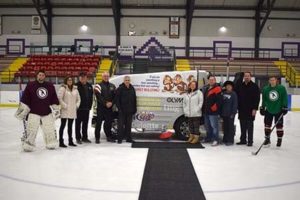 On Thursday November 30th, the Ànowaràkowa Arena hosted a little get-together open to the community. The main event was the big reveal of their brand new Ice Resurfacer, which took a lot of time and fundraising efforts to obtain. The Arena began with a fundraising goal of $96,000.00, and with the help of various businesses and associations, they were able to meet that quota. Some of the different businesses and associations that had a hand in helping the Arena to reach their goal was:
Deloitte: $1000
Tarbell Management Group: $2000
CKON: $5,000
SAA- Aboriginal Initiative Fund: $48,245
Core-Mark: $8,800
Akwesasne Police Association: $7,713
Akwesasne Family Services: $5,000
Truck Stop #9: $5,000
The Ànowaràkowa Arena also put on different fundraisers throughout the year to help raise the remainder of the goal. With the help of community members and their fundraising efforts the Arena was able to raise $17,500.