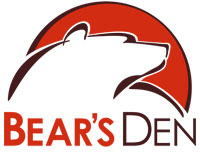 Akwesasne, NY (May 25th, 2012) – Tarbell Management Group LLC; TMG is pleased to announce the re-branding of their Convenience Stores and Fuel Stations within Akwesasne.  As of June 1st, 2012 all of TMG's retail locations formerly known as Western Door, Eastern Door and Bear's Den Trading Post will be re-branded as "Bear's Den".  Bear's Den has been a long outstanding business in the community and dates back to 1953 when their founder "Theresa Bear" first opened the 2 pump Texaco gas station which started the Tarbell's business over 59 years ago.  Bear's Den received a fresh and new logo which was based on the original logo.
The site formerly known as "Western Door" received a complete renovation, a larger 5800 sq. foot store and added two franchises (Tim Hortons and Papa John's) which brands meets the company's mission of "being the absolute best".  The former Eastern Door site will receive new signage and a store reset with some added products.  The main Bear's Den, where it all started, will be undergoing a renovation with new colors, fresher look, a large c-store floor space and will be consolidating some gift shop items into the new store layout which will be completed this summer.  This location will also receive a Tim Hortons Self Service Beverage kiosk which is scheduled for this summer during the renovation.
Bear's Den will be celebrating this change Friday, June 1st through Sunday, June 3rd and all are welcome to come.  Discounted prices, specials, samples, family fun and prizes will be going on throughout the weekend.
All Bear's Den locations will continue to have the great products everyone is looking for and provide fast friendly WOW service to the community and guests alike.  We are excited to introduce new and innovative things throughout the rest of this year.
"It is great to see the name that my grandmother started over 59 years ago be branded at all of our locations.  We are excited about all the new changes and future upgrades that all of our locations will be getting with the re-branding" – says Brandon Tarbell, President & CEO.