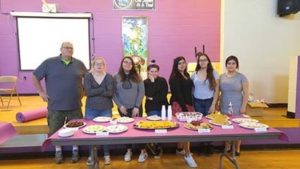 Submitted by Deanna Lauzon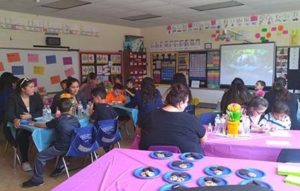 Spa Day at the St. Regis Mohawk School, where a 'special lady' was treated royally for the day.
The PTO provided lunch for the St. Regis Mohawk School teachers and staff for Teacher and Staff Appreciation Week. The Salmon River Iron Chefs provided desserts and served the food. A huge thank you goes out to the Tarbell Management Group for providing breakfast sandwiches and coffee on Monday. Also, the St. Regis Mohawk Tribal Council for bringing in many fruit and vegetable platters on Tuesday. Last but not least, the Atomic Place provided all of our staff with yummy pizzas. Our staff appreciated all of the delicious meals and are very grateful for the support that the community has shown to our school.
Also in the news, the students at the St. Regis Mohawk School treated a special lady to a spa appointment in their classroom to celebrate Mother's Day. Their spa appointment included a massage, manicure, snack, and gift.